CEREC Crowns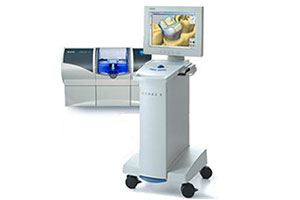 CEREC crowns are one of most innovative dental technologies to ever emerge. With CEREC crowns, you don't have to worry about messy impressions, temporary dental crowns, or multiple dental visits. CEREC crowns are made right in the dentist's office and are placed in just one visit. CEREC crowns look great, too. Made of pure porcelain and no metal, CEREC crowns look and feel like your real teeth. The convenience, comfort and beauty of CEREC crowns are unbeatable!
CEREC Technology
The CEREC 3D system is comprised of a CEREC Acquisition Unit, CEREC 3D software and a CEREC Milling Unit. The Acquisition Unit houses a medical-grade computer and CEREC camera; this unit takes a picture of your prepared tooth and creates a 3D model of it, which Dr. Stewart uses to design the restoration on screen.
The Milling Unit creates the porcelain dental filling, dental crown or dental veneer. During dental treatment, Dr. Stewart chooses a block of ceramic that resembles your natural tooth color and then places that ceramic block into the milling unit. The milling unit creates the restoration based on the design you just made on the Acquisition Unit, eliminating the need to take messy impressions or send work out to a lab. In just one dental visit, your tooth filling, dental crown or dental veneers will be complete and Dr. Stewart will bond it into place.
Keep in mind that not every dentist uses CEREC dental technology -- yet. CEREC is catching on though -- over 4,000 dentists in the U.S. and Canada use CEREC and over seven million restorations have been placed worldwide. This is one of many reasons Dr. Stewart is excited to present CEREC to you!
Like CEREC, the acronym is a tool that makes it easier to pronounce complex scientific and technological terms. Such is the case with CEREC, which is an acronym for Chairside Economical Restorations of Esthetic Ceramic.
Schedule an appointment today and see how Dr. Stewart can make your dental visit easy for you!